Old Mill Iron designs and builds quality ironwork for commercial applications including ADA hand railings and stair railings for all types of applications including: churches, restaurants, hotels and commercial buildings. Since 2009 we have been expertly working in the North Alabama area. We are centrally located off of I-65 in Athens Alabama. Old Mill Iron is WOSB certified and a member of the Athens-Limestone Home Builders Association in Limestone County, Alabama.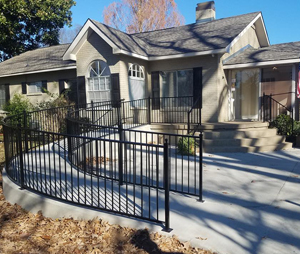 Commercial Ironwork-hand railings
Many times hand railings are need for commercial spaces and restaurants. Old Mill Iron is fully capable of designing these projects and presenting a CAD drawing along with an estimate for Commercial builders.
Have a project in mind? Visit our Request a quote page and upload any drawings or photos you may have.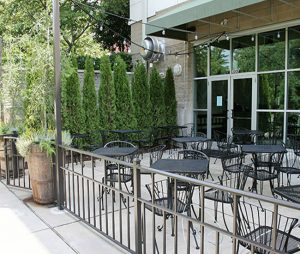 Commercial Areas- outdoor seating
Restaurants, eateries, bistros and other commercial establishments offer commercial ironwork outdoor seating areas to their patrons as an option to eating inside. Many Municipalities require ironwork and fencing around this dining area. This cafe fencing acts as a barrier to the street while increasing the appeal to sit outside.  This fencing may be sturdy and simple, ornate and ornamental or even movable with chains. For more information and designs contact sales@oldmilliron.com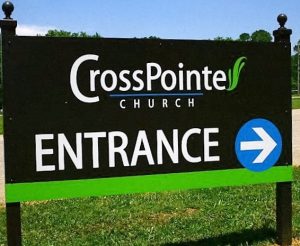 Commercial Ironwork-signage
Custom ironwork signs may be fabricated for churches, businesses and subdivisions. Old Mill Iron is your custom source for poles, finials and bases. We also offer plasma cut signage for estates including address, name, and other entrance signage. Our commercial signage examples are: signs for subdivision entrances, building entrances, parking lots and more.
Commercial Project Contact
For more information or an estimate for a commercial projects and powder coating:
Jeff Wittmuss – 256-614-3606 ‌‌‌ sales@oldmilliron.com
Powder Coating Capability statement click here