Ornamental Handrails & Stair Rails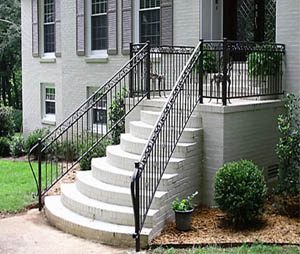 Exterior Handrails and Stair Rails
Stair rails may be functional and simple or elegantly beautiful and help to unify the look of a home. Many times these design elements may be incorporated into other ironwork including fencing, balconies and driveway gates. Railings include Standard rails, Stair rails, Balcony rails, Ornamental iron rails, Cable rails, and Handicapped rails. Check out the Gallery for more photos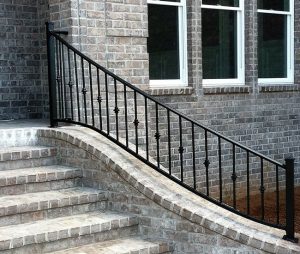 Ornamental Rails for Curved Steps
Curved Steps create beautiful and welcoming entrance for homes and businesses. Ornamental iron rails may be fabricated to accent steps which will give a more finished look to any outdoor or indoor project. Many times the fabrication of these rails are fabricated on site. This ensures the customer an exact curved design. Be sure to visit the FAQ page for ordering and estimate information.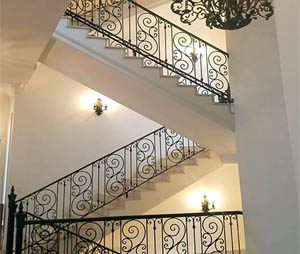 Residential Interior Handrails
If you own a new home or would like to update an older home, ornamental iron stair rails for interior steps add great value and design to any office or residence.  Countless beautiful designs may be designed and used to create a unique look to compliment any decor. If a more traditional look is needed, we can fabricate a more streamlined handrail for a simple traditional elegant handrail.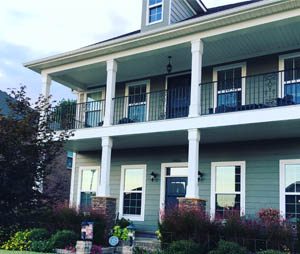 Remodeling or Purchasing New
Ironwork adds beauty to any project. Old Mill Iron is a preferred vendor to many custom home builders in the Tennessee Valley. Fully insured, licensed and a member of the Athens-Limestone Home Builders Association. Old Mill Iron also holds a National Women's Business Enterprise Certification from the WBENC and is a Certified Small Business. Our staff is ready to help you with your next project.